apparently I kick ass
I think it's pretty obvious I've had a bit of a hectic week. Work is kicking my butt and traveling, fun as it was, burned up precious time. Not to mention trying to get in a few peeks at the Olympics at night. I may have stayed up a bit too late a few times!
In the middle of it all, my virtual twin Kaza reminded me why I love blogging so much. This is why I can't quit y'all no matter how busy I get otherwise. Kaza seems to think that I kick ass and gave me an award that says so!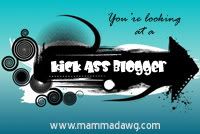 Thank you!! If I could give it back to you I would, and you know I adore you!
I'm supposed to pass this on to 5 bloggers I think kick ass too. That's easy – there are tons of bloggers who inspire me. Narrowing it down to just 5 is the hard part! Here goes:
Ladies, you all kick major ass!
Comments